SWA Storage Solution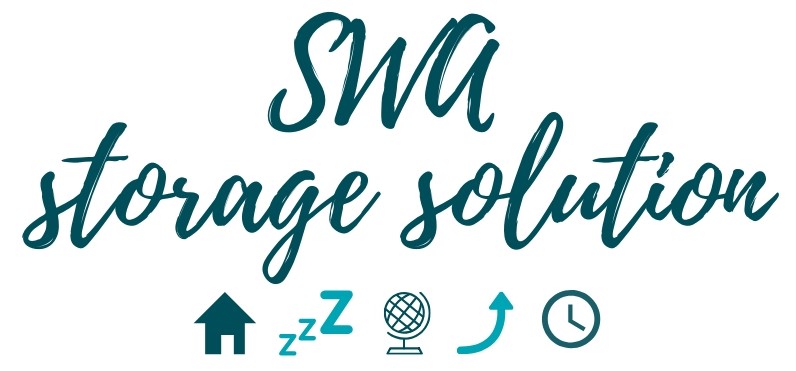 For a long time we've had enquiries about the possibility of a storage facility here at SWA. As many of you will be aware we've offered temporary storage in the past. However, we don't believe this has adequately satisfied the storage appetite many of you have. That's why we've decided to launch the SWA Storage Solution. We know how important it is for you to know your bottles are protected and insured and our new storage facility has been designed with your whisky in mind. We know a whisky collection needs to be cared for in the right way, that's essential to its longevity! We have designed our facility to offer the ideal whisky environment, with both climate and light control. So, what's the best thing you can do to protect your whisky? Make the most of the SWA Storage Solution.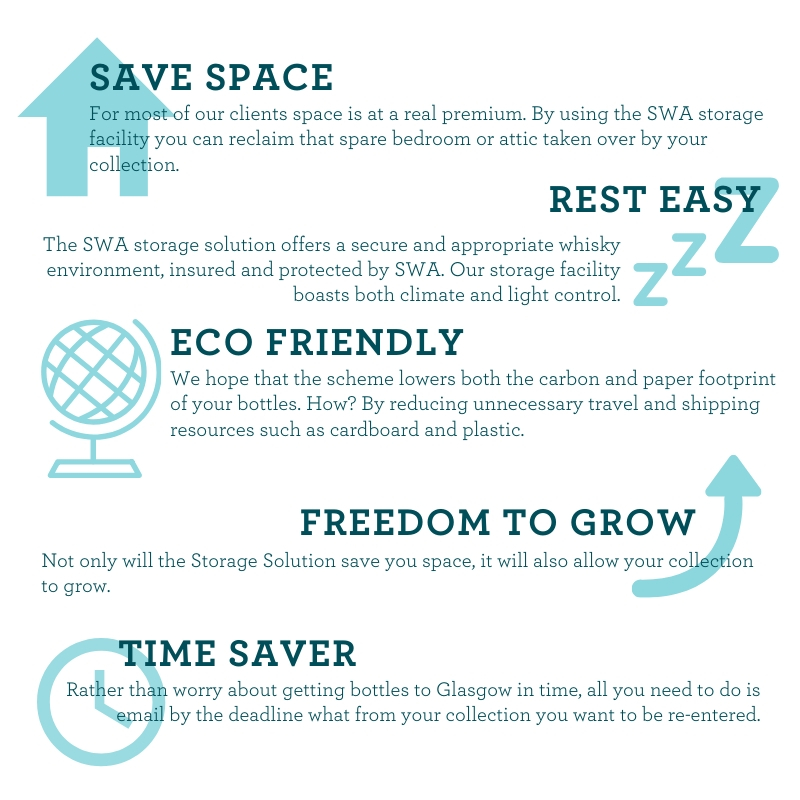 What is the SWA Storage Solution?
SWA are now offering a complimentary storage service. Your orders can now be stored in Glasgow, in the perfect whisky environment (climate and light controlled) enjoying the benefits of Loss & Breakage.
How much does the Storage Solution cost?
Whilst the storage is complimentary, all users must take out loss & breakage. As usual L&B is 3% VAT of your hammer price per bottle however for storage a minimum fee of £5.00 + VAT per bottle applies. This L&B is valid for 12 months on each individual order. If you decide to continue storing with us after the first 12 months, you will need to renew your L&B we'll be in touch nearer the time. Should you choose to ship your items during the 12 month period, the L&B fee purchased will be valid until the first delivery attempt is made.
How do I use this service?
It couldn't be easier. During the checkout process, select the option for storage. This option will be presented as an alternative to shipping/collect in store etc. At this point the L&B fee will be calculated and added to your invoice. This is not a blanket fee, all orders (per auction) are subject to storage charges. You can also select long term storage for bottles awaiting instruction with the 'My Collection' section of your account.
How long can I store my bottles for?
Your order's L&B fee covers your order for 12 months. Once the 12 months comes to an end you are more than welcome to renew your L&B in order to extend your storage. We'll get in touch to remind you nearer the time.
Can I remove my bottles before the 12 months ends?
Yes of course. Should you want to have your bottles shipped prematurely, re-entered into an auction or have made alternative arrangements, simply log in to your account and select 'My Collection'. From there you can select the option to select bottles to ship.
Auction Requests: Please ensure these are made before the normal auction bottle deadline.
Shipping Requests: Please allow 3 working days for your shipping requests to be actioned.
Alternative Arrangements: We would ask that all customers give us 3 working days to configure any requests made. All alternative arrangements must be made and confirmed through your personal account handler.
Do I get a discount if I remove my bottles early?
Your L&B is fixed for a 12-month period. We will never be able to reduce this fee for less time used. The loss and breakage premium is non-refundable.
Can I come and visit my bottles?
Unfortunately, for security reasons we won't be able to allow visitors into our storage facility. However, if you have any questions regarding your collection you are more than welcome to contact us.
What if something happens to my bottles?
Firstly, let us reassure you that we will be guarding your bottles as if they were our own. We are committed to protecting your bottles and to ensuring their well-being. However, in the very unlikely event of an incident, your bottles will be protected under the terms of your L&B policy. Compensation is determined using the most recent hammer price or the declared value where applicable. In the unlikely event of an incident, we will be in touch to discuss compensation.
I've not bought bottles with you, but I would like to make the most of the SWA Storage Solution. Is this possible?
Yes of course! Please do get in touch so we can manually create you a storage plan.
Is partial shipping/storage possible?
Yes! From 'My Collection' within your account simply select which option you would like - ship, collect, store or relist - and the system will list your bottles for selection.